From admiring baby sea otters to watching cows graze on the prairie, exploring your local aquarium or zoo with your kids is an interactive and memorable way to introduce them to more of the world. While we can't physically visit at the moment, one thing that is making my family really happy right now is taking virtual trips. Seeing penguins running around or lion cubs playing together instantly puts a smile on our faces. We also love the calming sensation of watching fish and sea creatures swimming around in giant aquariums. Although these experiences can't replace a "real" trip, virtual tours can help your family stay connected to nature and excited about future in-person trips. Here are 8 of our favorite virtual zoo and aquarium experiences.
A Farm Sanctuary and Zoo Cams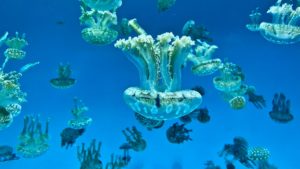 Aquariums
Whether you're in the mood to watch giant pandas snack on bamboo or see penguins glide underwater, these virtual trips will introduce your kids to new species and help them learn more about those animals. It's an educational yet entertaining way for your kids to stretch their knowledge and imagination from the safety and comfort of home.