Being a toddler mom in NYC during a pandemic has its silver lining. While it hasn't been easy, one unintended consequence has been discovering new ways to encourage playful learning experiences through nature.  Our family's love and appreciation for all things outdoors only intensified as we found new and exciting places to explore. 
For those able to get out of our big (yet may feel like the tiniest city at times!) city or those looking for more nature in the five boroughs, here are my toddler's current favorite spots. Enjoy our little gems!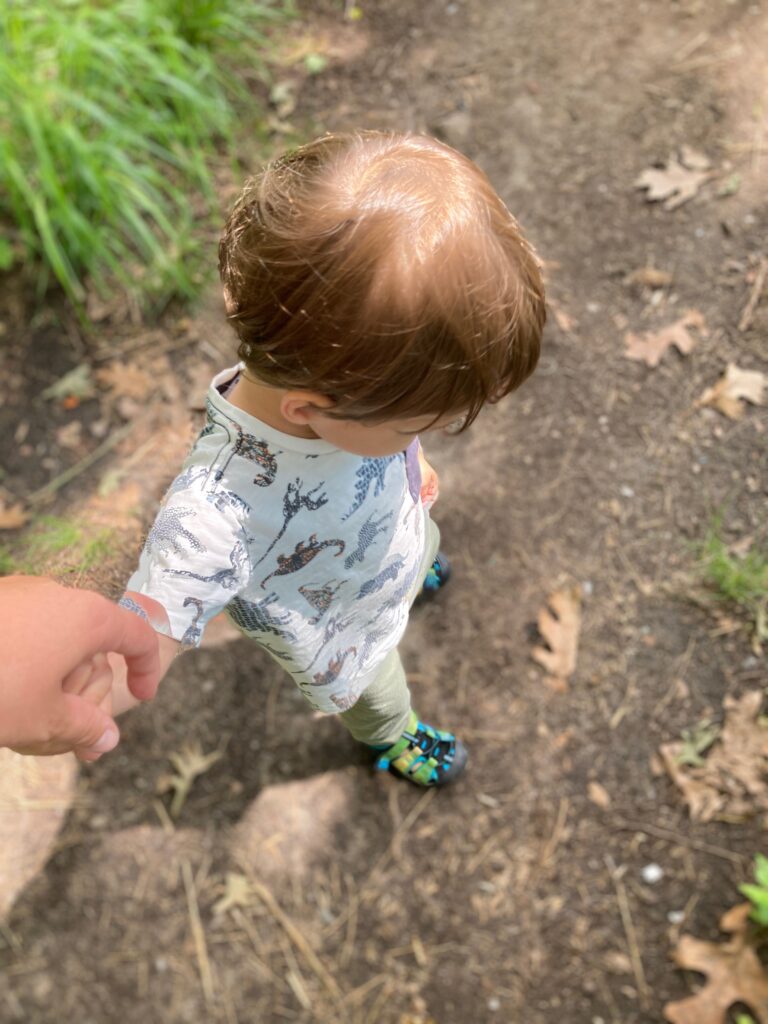 Hunter Island Bronx, NY 10464
Hunter Point, located in the northern section of the Bronx in Pelham Bay Park, might as well be upstate! I went with my family in September, and we were immediately taken aback by the natural beauty. The backdrop of the Long Island Sound is gorgeous, and our little one loved picking up the wind-worn rocks lying on the beach to add to his collection. For anyone with an adventurous spirit who wants to get away without really getting away, this is an absolute must. 
50 Barry Dr, Glen Cove, NY 11542
Located on the North Shore of Long Island, this museum is a great place to take the family or yourself! The museum is filled with fun kid-friendly areas, and the preserves give you a taste of Long Island in its most serene state. Definitely bring a windbreaker, especially in the fall/spring, as the weather off the beach (though pristine!) is fickle. I may or may not have lost a hat or two! One particularly notable highlight is the numerous boulders found throughout the grounds. My son loved scrambling over them as we walked through. Also, don't pass on the great dining nearby after your day of exploring! Bagels may be comparable to Brooklyn…Maybe…
Marshlands Conservancy, 220 Boston Post Rd
Rye, NY 10580
This nearly 150-acre wildlife sanctuary located in Rye offers some breathtaking views that your kiddos will be sure to love! It holds a special place in my heart. It reminds me of lakes and marshes back home in the Midwest. Some trails are easily accessible and perfect for a nature getaway for your little nature babe(s)! Without being too strenuous (only about a 3-mile loop), a parent's lifeline, the stroller, may come in handy! When my little one was extra little, our pack served us well for these moments. A nap in a pack is a beautiful thing! Also, there are casual recreation areas equipped with picnic benches perfect for a snack and break!
Target Rock National Wildlife Refuge, 12 Target Rock Rd,
Lloyd Harbor, NY 11743
Target Rock has quickly become a favorite destination for our family. This wildlife refuge has excellent, smooth trails that anyone can take advantage of, perfect for day getaways. For the wiggly explorers, Target Rock offers wooded trails, lakes, and beaches. The Osprey sightings are common, and our son, ever the avid bird watcher, was enamored looking up at them. If you have 15 minutes to spare, I highly recommend stopping over at Herrell's Ice Cream Parlour. It's the real deal!
Sands Point Preserve, 127 Middle Neck Rd,
Sands Point, NY 11050
Located in Port Washington, this off-the-beaten-path nature preserve is a quick 45 minutes from the city. Complete with beaches, family-friendly trails, and a great picnic area in the open grass adjacent to Hempstead House, it's a historical must-see. Our son loves picking up sticks and running down the dirt paths. This place has it all. Plus, it doesn't hurt to have a Port Washington native for a husband to help us navigate the Main Street. Pro tip: bring some extra shoes for muddy puddles!
This post was contributed by Rose Mendoza, an educator and the founder of A Rosie Day, which provides open-play and enrichment classes in a "parent and me" collaborative setting for children ages 1 – 4 years old in Manhattan and Brooklyn. Rose has experience teaching in early childhood programs based in nonprofit and community settings and much of her pedagogy in rooted Reggio Emilia teaching. Rose is the mom of a toddler and lives with her husband in Williamsburg, Brooklyn. Contact Rose at info@arosiedaynyc.com to learn more about her programs.